When reviewing g17 and g34 sights our goal is to squeeze every bit of performance we can from our glock. Glock's OEM sights work but are not the greatest, and we don't want something that just "works" we want it to be the best. If your running and gunning or just plinking and want the best for your glock take a look at our list for the best glock 17(L) and 34 sights.
The TTI Ultimate Fiber Optic Sights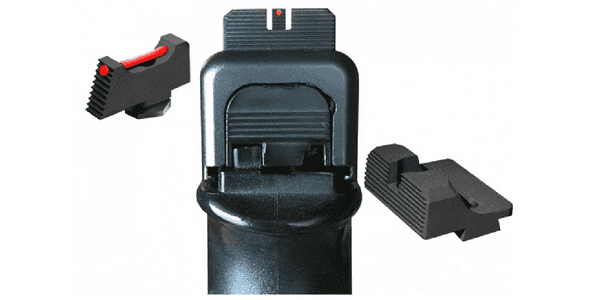 The TTI Ultimate Fiber Optic Sights
When it comes to running and gunning or competition there is one thing we want to focus on which is target acquisition, which Glock OEM sights do not help with much but the Taran Tactical Innovation sights do. The TTI Ultimate Fiber Optic Sights were designed by Taran Butler and Robert Vogel for the optimum sight picture and brightest fiber optic front sight available. For those of you who do not know who Taran Butler is, he has nearly 150 professional competition wins including 4 time USPSA Multi Gun National Tactical Champion and has been the one teaching Keanu Reeves to be John Wick. But enough about his accolades and more about the sights. The TTI sights are extremely durable and are machined with winning in mind, the front of the rear sight is angled to allow one-handed charging from your belt, pants, or anything else that is close by. The point of impact and point of aim is set at 15 yards for full sized Glocks using 124 grain ammo. But these sights also work flawlessly with almost all glock variants including models 17L, 19, 20, 21, 22, 23, 24, 34, and 35. If you want reliable and top of the line glock sights then TTI sights are a great option.
Zev Fiber Optic Front, Combat V3 Black Rear
Zev Fiber Optic Front, Combat V3 Black Rear
Zev is a great choice when looking for high quality sights. Built with competition in mind Zev sights come equipped with a fiber optic front sight for high resolution and great ease of acquisition. Not to mention Zev sights are assembled from quality billet materials providing a wide rear notch for high visibility. If you are wondering if these sights are good enough for you take note that pro shooter KC Eusebio and a few others are a part of the Zev team and use all Zev's products. Zev sights are compatible with pretty much all glock models but they have an extensive list on the listing.
Trijicon RMR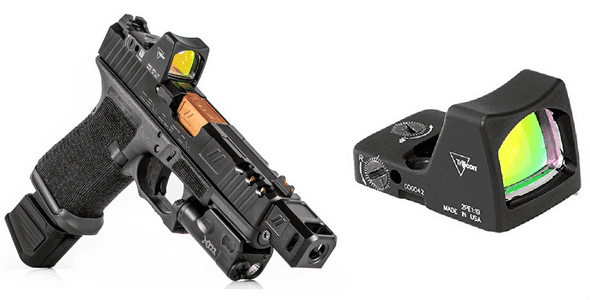 Trijicon RMR Type 2
Last but absolutely not least is the Trijicon RMR. These sights are no joke, some would say the best especially for competition. Let me just say that shooting with these sights is a dream! No other sights will give you the speed the RMR gives you, let alone precision. Trijicon claims these are great for self defense, duty weapons, competition, and target shooting, however it may be a bit bulky for some. These sights allow you to shoot more accurately at any distance by focusing your attention on the target, not the combination of your front post, rear post, and target. Not to mention the sights make your draw a lot quicker since its extremely easier to see and faster to align the reflex sight on the target. You may be wondering about the RMR Type 2 vs Type 1. The main difference is that Type 2 has redesigned and upgraded electronics which has been tested and works better on small firearms like pistols. Also included in the new RMR Type 2 are button lock out mode and battery saving features, which make this optic ideal for concealed carry and law enforcement use. Another pro of the RMR is it can be mounted on many firearms and not just glock models. To mount on your glock you will need to get a mounting kit also. Trijicon RMR Mounting kit (AC32064)